Social Network Analysis:
Social network analysis is focused on uncovering the patterning of people's interaction. It is about the kind of patterning that Roger Brown described when he wrote:
"Social structure becomes actually visible in an anthill; the movements and contacts one sees are not random but patterned. We should also be able to see structure in the life of an American community if we had a sufficiently remote vantage point, a point from which persons would appear to be small moving dots. . . . We should see that these dots do not randomly approach one another, that some are usually together, some meet often, some never. . . . If one could get far enough away from it human life would become pure pattern."
Network analysis is based on the intuitive notion that these patterns are important features of the lives of the individuals who display them. Network analysts believe that how an individual lives depends in large part on how that individual is tied into the larger web of social connections. Many believe, moreover, that the success or failure of societies and organizations often depends on the patterning of their internal structure.
That kind of intuition is probably as old as humankind. It is implied, for example, by the relative stress put on descent lists in the Bible. And, beginning in the 1930s, a systematic approach to theory and research, based on that notion, began to emerge. In 1934 Jacob Moreno introduced the ideas and tools of sociometry. And at the end of World War II, Alex Bavelas founded the Group Networks Laboratory at M.I.T.
From the outset, the network approach to the study of behavior has involved two commitments: (1) it is guided by formal theory organized in mathematical terms, and (2) it is grounded in the systematic analysis of empirical data. It was not until the 1970s, therefore--when modern discrete combinatorics (particularly graph theory) experienced rapid development and relatively powerful computers became readily available--that the study of social networks really began to take off as an interdisciplinary specialty. Since then its growth has been rapid. It has found important applications in organizational behavior, inter-organizational relations, the spread of contagious diseases, mental health, social support, the diffusion of informat ion and animal social organization. Today it has become an international effort with its own professional organizations, text books, journals, research centers, training centers and computer programs designed specifically to facilitate the analysis of structural data.
by Lin Freeman
What is Network Analysis?
by Steven Borgatti
Network analysis is the study of social relations among a set of actors. It is a field of study -- a set of phenomena or data which we seek to understand.

In the process of working in this field, network researchers have developed a set of distinctive theoretical perspectives as well. Some of the hallmarks of these perspectives are:
focus on relationships between actors rather than attributes of actors
sense of interdependence: a molecular rather atomistic view
structure affects substantive outcomes
emergent effects
Network theory is sympathetic with systems theory and complexity theory. Social networks is also characterized by a distinctive methodology encompassing techniques for collecting data, statistical analysis, visual representation, etc.

Social Relations
Social relations can be thought of as dyadic attributes. Whereas mainstream social science is concerned with monadic attributes (e.g., income, age, sex, etc.), network analysis is concerned with attributes of pairs of individuals, of which binary relations are the main kind. Some examples of dyadic attributes:
Kinship: brother of, father of
Social Roles: boss of, teacher of, friend of
Affective: likes, respects, hates
Cognitive: knows, views as similar
Actions: talks to, has lunch with, attacks
Flows: number of cars moving between
Distance: number of miles between
Co-occurrence: is in the same club as, has the same color hair as
Mathematical: is two links removed from
Topics

1. Substantive effects of social network variables
Attributes of ego network --> access to resources, mental/physical health
Network closeness --> influence, diffusion
Similarity of position --> similarity of risks, opportunities, outcomes
2. Substantive determinants of social network variables
Personality --> centrality?
Similarity --> friendship ties? (Homophily)
Reduction of cognitive dissonance --> transitivity?
Strategic "networking"
3. Network determinants of network variables
Relationship between density and centrality
Place in the Academic Universe
Extremely fast growing field:
It is a "supplier" to sociology, anthropology, psychology, management, health, etc.
It is a "client" of graph theory, algebra, statistics, sociometry, psychometry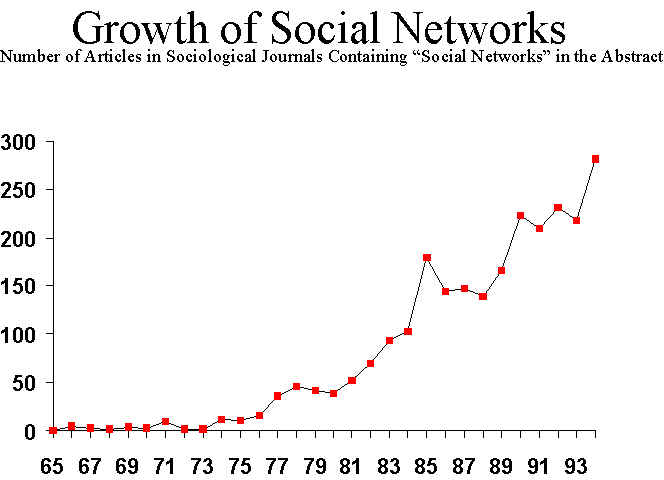 Kinds of Network Analysis
There are two basic kinds of network analysis, reflecting two basically different kinds of data: ego network analysis, and complete network analysis.

Ego network analysis can be done in the context of traditional surveys. Each respondent is asked about the people they interact with, and about the relationships among those people. Since respondents might be sampled randomly from a large population, in ego network analysis it is unlikely that the respondents will know anyone in common, and no attempt is made to link up the networks. Typically, the analysis of ego networks involves assessing the quality of a person's networks (size, diversity, average income, etc.) or relating attributes of ego with attributes of their alters (homophily). Ego network analysis is extremely convenient because it can be used in conjunction with random sampling, which enables classical statistical techniques to be used to test hypotheses.

Complete network analysis is where you try to obtain all the relationships among a set of respondents, such as all the friendships among employees of a given company. Most of the rhetoric surrounding network analysis is based on complete networks. Techniques such as subgroup analysis, equivalence analysis and measures like centrality all require complete networks.

Problems with Network Analysis
The field of network analysis is conventionally criticized for being too much methodological and too little theoretical. Critics say that there are few truly network theories of substantive phenomena. This is not a well-considered argument, however, because when examples of network theories are presented, critics say 'that's not really a network theory'. This is natural because theories that account for, say, psychological phenomena, tend to have a lot of psychological content. Theories that account for sociological phenomena have sociological independent variables. Only theories that explain network phenomena tend to have a lot of network content.

A real problem with network analysis in the past has been the inability to test hypotheses statistically, because the data are by their very nature autocorrelated, violating assumptions of independence (random sampling) built-in to most classical statistical tests. With the advent of permutation tests, however, this is much less of problem now.

A continuing problem is the lack of sufficient computing resources to handle large datasets. It is often a problem to bound a social network. If we are looking at needle-sharing among drug users, we can artificially bound the network at some arbitrary boundary, such as city or neighborhood, but this distorts the data. Yet we cannot let the network get too large because we cannot process the data.
Social Network Analysis Links
| | |
| --- | --- |
| International Network for Social Network Analysis | View Website |
| New England Complex Systems Institute | View Website |
| The Institute for Quantitative Social Science at Harvard University | View Website |
| Social Network Analysis Instructional Website | View Website |
| LINKS--International Center for Research on Social Networks in Business | View Website |
| | |